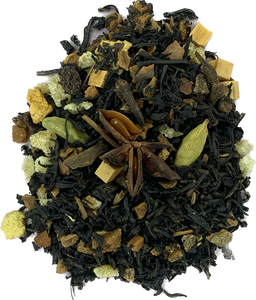 A fresh take on a spiced classic, our Chai Caramel takes traditional chai to a new level of delicious. Bold black tea makes the perfect base for our Chai Caramel, as it perfectly complements the spiced blend, yet doesn't overpower the touch of added caramel.
Classic chai spices- cinnamon, ginger, clove and cardamom are a delight when black pepper and anise are added to the mix, we've added a hint of caramel flavor for a unique indulgent and creamy taste.
Our Chai Caramel would make the best chai latte; just prepare with part water and part steamed milk of your choice, then add your sweetener of choice to enjoy a rich a creamy Chai Caramel tea latte.
Ingredients- Black Tea, lemon peel, clove buds, cinnamon bark, candied ginger, toffee pieces, almonds, milk chocolate, caramel pieces, raisins, nice, cardamon, nutmeg.
***Contains Caffeine